GALLERY
1973 DS23efi Pallas ›
British market DS23efi Semi-Auto Pallas in original NOIR AC 200.
1973 Safari ID20 ›
Probably the best surviving original RHD Safari, painted in ROUGE MASSENA AC 423, this example spent most of its life with just one family.
1972 DS21efi Pallas ›
DS21efi Pallas Semi-Auto LHD. Recently imported from France.
1970 DS21 Pallas RHD ›
RHD DS21 Semi-Auto in SABLE METALLISE AC 318 with Black Leather Interior.
1974 DS23efi Pallas 5-Speed ›
DS23efi 5-Speed Pallas restored in BLEU D'ORIENT AC 616 with a GRIS NACRE AC 095 roof and a black leather interior.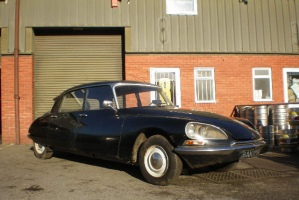 1969 DS21 Prefecture ›
1969 DS21 Prefecture. Originally used in Paris but imported to the UK in 2001. Note B & C pillar panels painted the same as the rest of the body in NOIR AC 200. Door insides are painted Grey.