GALLERY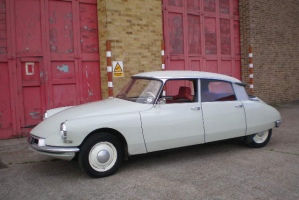 1962 ID19 ›
Paris built ID19 in BLANC PAROS AC 102 with a red cloth interior.
1970 DS21H Pallas ›
RHD DS21 Semi-Auto in rare BLEU DANUBE AC 630.
1972 D Super 5-Speed LHD ›
Just restored with repaired panels and chassis and new leather this D Super will be used for holidays to France.
1968 DS21 Pallas Semi-Auto ›
Imported from France about 8 years ago this is a '68 DS21 Pallas Semi-Auto with a Dark Grey Metallic body and GRIS ARGENT AC 100 roof.
1961 ID19 "Slough" ›
Very well known Slough ID19 in Sherwood Green with Daffodil roof that was recently owned by Motoring author Malcolm Bobbitt. In its early days it was used by Citroen UK as a press car and in later life competed in...
1973 D Super ›
Originally registered in New Zealand this RHD 4-speed D Super in BLEU CAMARGUE AC 635 was then imported into Ireland before finding its way into the UK.