GALLERY
1968 DS21 Pallas Semi-Auto ›
Imported from France about 8 years ago this is a '68 DS21 Pallas Semi-Auto with a Dark Grey Metallic body and GRIS ARGENT AC 100 roof.
1961 ID19 "Slough" ›
Very well known Slough ID19 in Sherwood Green with Daffodil roof that was recently owned by Motoring author Malcolm Bobbitt. In its early days it was used by Citroen UK as a press car and in later life competed in...
1973 DS23efi Pallas ›
British market DS23efi Semi-Auto Pallas in original NOIR AC 200.
1973 Safari ID20 ›
Probably the best surviving original RHD Safari, painted in ROUGE MASSENA AC 423, this example spent most of its life with just one family.
1972 DS21efi Pallas ›
DS21efi Pallas Semi-Auto LHD. Recently imported from France.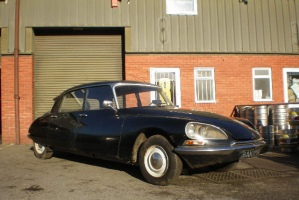 1969 DS21 Prefecture ›
1969 DS21 Prefecture. Originally used in Paris but imported to the UK in 2001. Note B & C pillar panels painted the same as the rest of the body in NOIR AC 200. Door insides are painted Grey.