GALLERY
1974 DS23efi Pallas Semi-Auto LHD ›
Just restored in GRIS PALLADIUM AC 108 with "Mokka" leather interior and beige carpets.
1970 DS21 Semi-Auto ›
RHD British market DS21 Pallas Semi-Auto restored in BLEU PLATINE AC 632 with new leather and rebuilt engine.
1969 DS20 Semi-Auto Pallas ›
Imported from France a couple of years ago and with its second UK owner this '69 DS20 Semi-Auto now has a leather interior.
1968 ID21 Safari ›
Blue with Gris Rose Roof and Grey Bufflon Interior. Very rare early RHD Semi-Auto Safari. This car has the two tone ID dashboard which was used from '64 -'68.
1972 DS21 Pallas Semi-Auto ›
British market RHD DS21 Semi-Auto Pallas. Painted in NOIR AC 200. New leather interior fitted, body and chassis restoration to be carried out next year.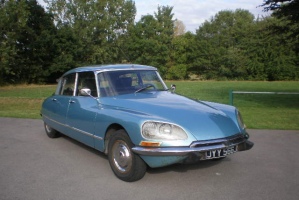 1971 DS21 Pallas ›
BLEU PLATINE AC 632 with original black leather interior this DS lived in the South of France before it arrived in the UK.