GALLERY
1965 ID19 ›
French spec ID19 in original NOIR AC 200.This car has the older long stroke engine but the newer hubs and 5 stud wheels.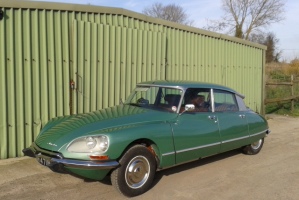 1974 DS23 Pallas RHD ›
South African assembled DS23 Pallas 5-speed Manual now restored in VERT ARGENTE AC 527.
1974 DS23 Safari ›
After a 20 year lay up this RHD DS23 Safari has now been re-commssioned and is going to be repainted in the original colours of BRUN SCARABEE AC 427 and GRIS ROSE AC 136.
1974 DS23 Pallas Man' LHD ›
French market DS23 in BEIGE THOLONET AC 085 which was imported to the UK some years ago and has recently had the body & chassis restored.
1975 DS23 Pallas ›
RHD DS23 5-speed manual in BLEU LAGUNE AC 639 imported from South Africa.
1967 DS21 "Confort" ›
LHD Manual version, last of the frogeyes and first with LHM in BORDEAUX AC 421 with red cloth.