GALLERY
1970 DS21 BVH Pallas RHD ›
British market DS21 that has had the body (Bleu Platine AC632) and chassis restored. Original engine & gearbox.
1974 DS23efi BVH Pallas RHD ›
Late model DS23 efi Semi-Auto Pallas in BLEU LAGUNE AC 639.
1974 D Super 5 ›
Last taxed in 1985 this RHD D Super 5 is now back on the road after 30 years of hibernation.
1974 DS23efi Pallas LHD ›
Originally French registered this BLEU D'ORIENT AC 616 DS23efi then lived in Hungary before arriving in the UK.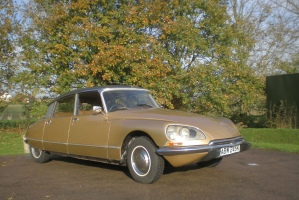 1972 DS20 Pallas Semi-Auto ›
Paris built but exported to New Zealand this RHD DS20 has been in the UK since the nineties.
1968 DS21H Pallas ›
Recently imported from Germany, we have now recommissioned this LHD '68 DS21 in GRIS PALLADIUM AC 108b with a GRIS ARGENT AC 114 roof and black leather.