photo Blog
Citroen DS Leather Interiors ›
2013-03-07 : DS21 receiving re-covered black leather Seats/Doorcards/Armrest/Headrest (Door cappings to be fitted later).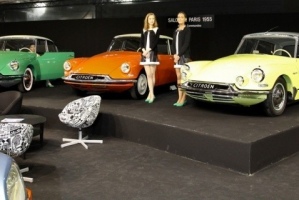 Retromobile 2013 ›
2013-02-07 : A celebration of the early model DS at Retromobile 2013.
Paintwork ›
2013-01-14 : Our customer's '68 ID21 Safari Front Wing repaired & painted following an arguement with a garage wall.
Line Up ›
2012-11-23 : A break in the weather allowed for this line up...
en France ›
2012-11-02 : Our DS23efi Pallas on a recent trip to Normandy which proved it to be 100% reliable. This car will be now be restored in its original colour of BLUE DELTA AC 640.
Tholonet V Sable ›
2012-10-04 : On the right: SABLE METALLISE AC 318 (1970-72)on the left: BEIGE THOLONET AC 085 (1973-75)