Restoration
1974 DS23efi Pallas BVH ›
In long term family ownership this RHD DS23efi Pallas BVH is going to be restored to the owner's unique specifications.
1971 DS21 Pallas BVH ›
Owned for more than 30 years this DS21 is now going to get the attention it deserves. First the engine was rebuilt then the chassis and outer panels were restored and painted black.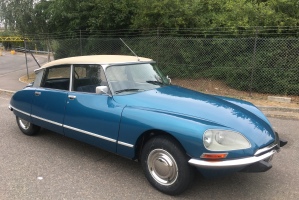 1974 DS23efi Pallas BVM ›
First off repairs to rear of the chassis followed by bodywork and paint in Bleu Delta AC640. Reassembly with new carpets, new roof vinyl and polished S/S trim.
1974 DS23 BVM Pallas RHD ›
Full body restoration has been carried out on this South African assembled DS23 in Bleu D'Orient with Gris Nacre roof.
1974 DS23efi BVH RHD ›
DS23 in an unusual shade for a Pallas car, of Bleu Lagune. It will have its body restored and will retain this original colour with a black vinyl roof. Also included will be a full chassis rebuild with new carpets...
1967 DS19 BVM LHD ›
LHD '67 DS19 BVM that has been restored in its original colour of Gris Cyclone with a Blanc Paros roof.